CONCURS INCHEIAT!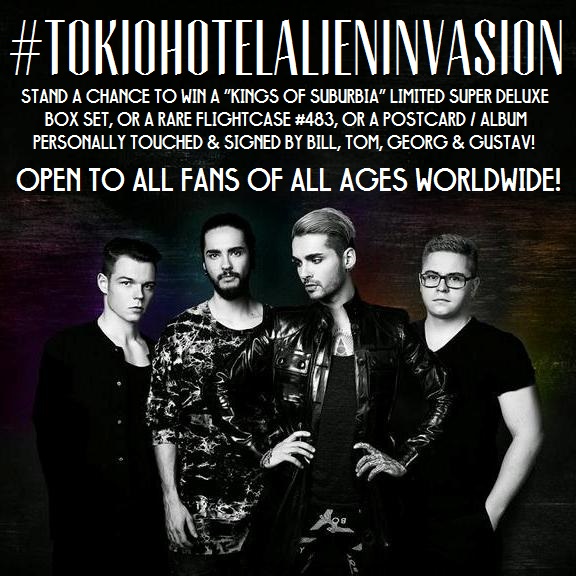 Scroll down for English
TOKIO HOTEL ALIENS! ACEASTA ESTE ȘANSA VOASTRĂ SĂ CÂȘTIGAȚI UN SET "KINGS OF SUBURBIA" LIMITED SUPER DELUXE, O CUTIE "FLIGHTCASE 483" EXTREM DE RARĂ (FRANȚA, 2007), O CARTE POȘTALĂ SAU UN ALBUM SEMNAT/Ă DE BILL, TOM, GUSTAV ȘI GEORG!
Susţineţi trupa şi demonstraţi întregii lumi cât suntem de puternici!! Mai jos găsiţi informaţiile necesare pentru a câştiga premiile.
FACEŢI CLIC AICI ŞI URMAŢI PAŞII MECANISMULUI DE PARTICIPARE!
Mecanism de participare:
1) Acest concurs este disponibil pentru fanii Tokio Hotel, de orice vârstă, DIN ÎNTREAGA LUME!
2) Adunaţi puncte folosind toate opţiunile disponibile la TWEET ABOUT THE GIVEAWAY in widgetul de la linkul de mai sus.
PASUL 1: Asiguraţi-vă că sunteţi logaţi pe contul vostru de Twitter.
PASUL 2: Faceţi clic pe butonul TWEET. Dacă numărul de caractere depăşeşte limita, ştergeţi linkul de la sfârşitul mesajului înainte de a-l posta.
PASUL 3: Faceţi clic pe View it on Twitter pentru a vă asigura că mesajul a fost postat pe pagina voastră de Twitter.
PASUL 4: Copiaţi linkul de la postul vostru de pe Twitter şi introduceţi-l în widget sub Paste in the tweet URL
PASUL 5: Faceţi clic pe I TWEETED
PASUL 6: Repetaţi paşii de mai sus pentru TOATE opţiunile TWEET ABOUT THE GIVEAWAY
Cu cât postaţi mai multe mesaje zilnic, cu atât aveţi mai multe şanse de câştig! Nu trebuie decât să daţi clic pe EDIT de la fiecare opţiune şi să repetaţi paşii de la 2 la 5.
3) Câştigătorii vor fi aleşi aleatoriu, dintre cei cu punctajul cel mai mare.
4) Acest concurs începe pe 30 Septembrie 2014, ora 21:00, ora României şi se încheie pe 30 Noiembrie 2014, ora 21:00, ora României.
5) Câştigătorii vor fi anunţaţi de către Fan Club-urile Oficiale participante, pe 5 Decembrie 2014, la ora 21:00, ora României.
6) Câştigătorii vor fi contactaţi de către Fan Club-urile Oficiale participante pe Twitter, pentru detalii.
Multă baftă!
INFORMAȚII SUPLIMENTARE:
* Acest concurs, destinat fanilor Tokio Hotel, este sponsorizat de către următoarele Fan Club-uri Oficiale (recunoscute oficial de către Managementul trupei şi/sau de către casa de discuri locală): Austria, Belgia, Brazilia, Cehia, Filipine, Franţa, Germania, Lituania, Olanda, Regatul Unit, România, Rusia, Spania şi Suedia.
În cazul în care aveți nelămuriri, ne puteți trimite un mesaj privat pe pagina de Facebook sau să ne scrieți pe e-mail la adresa concurs@tokiohotel-fanclub.ro
———————————————————–
ENGLISH
TOKIO HOTEL ALIENS! STAND A CHANCE TO WIN
A "KINGS OF SUBURBIA" LIMITED SUPER DELUXE EDITION BOX SET, OR
A RARE FLIGHTCASE #483, OR
A SIGNED TOKIO HOTEL POSTCARD / ALBUM!
Show your force worldwide and support the band! Here's how you can win these prizes we know you guys want!
CLICK HERE & FOLLOW MECHANICS
Mechanics:
1) This contest is open to Tokio Hotel fans of all ages WORLDWIDE!
2) Earn points by using all the TWEET ABOUT THE GIVEAWAY options.
STEP 1: Make sure you are logged on to your Twitter account.
STEP 2: Click on Tweet. If the characters exceed limit, delete the link at the end of the tweet (it's not highlighted) before posting your tweet.
STEP 3: Click on View it on Twitter to make sure you have really tweeted the message.
STEP 4: Copy the link of your post on Twitter and insert it in the widget under Paste in the tweet URL
STEP 5: Click on I TWEETED
STEP 6: Do this for ALL TWEET ABOUT THE GIVEAWAY options! The more points you get from tweeting every day, the higher chances of winning! All you have to do is tweet again the next day — just click on EDIT for each tweet option, click TWEET, submit the new tweet URL and click on I TWEETED again. Make it your daily habit to earn more points!
3) Winners will be picked randomly from the top point earners.
4) Contest duration is from September 30, 8PM Berlin time to November 30, 8PM Berlin time.
5) Winners will be announced by sponsoring official fan clubs on December 5, 8PM Berlin time.
6) Winners will be contacted by sponsoring official fan clubs via Twitter for coordination.
Good luck!
NOTES:
* This worldwide contest for Tokio Hotel fans is sponsored by Universal Music France and Germany, Band Management, and the official fan clubs of the following countries (duly recognized and made official originally by Band Management and/or their respective local labels): Austria, Belgium, Brazil, Denmark, France, Germany, Lithuania, Netherlands, Philippines, Romania, Russia, Spain, Sweden, and United Kingdom.
* If your countries' top radio stations is not included in the list, please ask your local official fan club to coordinate with any of the sponsoring official fan clubs to be included at least a week after the formal request has been submitted and approved.