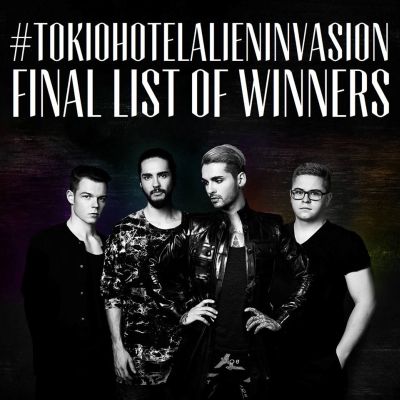 Dear Aliens, when we came up with the #TokioHotelAlienInvasion contest, our main goal was to promote Tokio Hotel's new album, but also to see who the most committed fans are and to reward them. One of our most important rules for the contest was rule no. 3, "Winners will be picked randomly from THE TOP POINT EARNERS", which was supposed to be performed by the widget that we used for the entries. When we announced the winners, we honestly believed that they were chosen out of the top point earners, but it was immediately brought to our attention by people who participated every day that there is no way that the winners have the most entries. Therefore, we checked the database of all entries, and realized that they were right, and that the winners were chosen from all the participants, regardless of the number of their entries.
Although the initial list of winners have not yet been contacted about their prizes, we still would like to apologize for the inconvenience and confusion the initial announcement of winners has caused them. We appreciate all the efforts of everyone who participated and we thank you. But we believe that rules are meant to be followed, so we decided to follow rule no. 3 no matter what, and give the prizes to their rightful winners.
Without further ado, please find the final list of the rightful winners below.
FINAL LIST OF WINNERS!
5 Kings Of Suburbia Limited Super Deluxe Box Sets
Anne G. – FRANCE – 5081 entries
Aidmar R. – VENEZUELA – 3805 entries
Gabrieladriana Soto D. – PERU – 3712 entries
Kevin R. – PERU – 3629 entries
Mayara B. – BRAZIL – 3422 entries
10 Tokio Hotel Flightcase #483
Mary M. – BRAZIL – 3421 entries
Lizeth R. – PERU – 3364 entries
Meli Moore Ysminio de K. – PERU – 3124 entries
Pengie E. – PHILIPPINES – 3052 entries
Roxane C. – FRANCE – 3038 entries
Jeanett V. – PERU – 2734 entries
Ayll K. – FRANCE – 2240 entries
Andrea Carolina M. – COLOMBIA – 1760 entries
Yosi Z. – BOLIVIA – 1746 entries
Lorena Lara R. – MEXICO – 1492 entries
2 Signed Tokio Hotel Postcards
Mila T. – ARGENTINA – 1301 entries
Rebecca B. – NETHERLANDS – 1087 entries
2 Tokio Hotel signed albums
Masha – RUSSIAN FEDERATION – 1068 entries
Marihuanaa K. – GEORGIA – 1033 entries
* This worldwide contest for Tokio Hotel fans is sponsored by Universal Music France and Germany, Band Management, and the official fan clubs of the following countries (duly recognized and made official originally by Band Management and/or their respective local labels): Austria, Belgium, Brazil, Denmark, France, Germany, Lithuania, Netherlands, Philippines, Romania, Russia, Spain, Sweden, and United Kingdom.